Installations From All Over The World
As if they were designed for Instagram or any other type of social network (and perhaps, in part, it really is): design, art sculptures or fashion installations are now a known and popular phenomenon in every corner of the planet.
It does not matter whether it is a luminous landmark, a communicative totem, a scenographically modified piece of architecture, a 3D mural or a perhaps green immersive path, these artistic phenomena, often temporary, have a high rate of popularity anyway and everywhere. They always encounter the famous wow effect.
Projects can be born with the aim of reflecting on social aspects against ethical division or racial problems, to combat land consumption and desertification, as a pro-ecosystem commitment, to bring attention to the different distribution of world economies, to tell a different point of view or as an invitation not to look away: just to give examples.
It is a natural affinity that for some time has linked some places in the world to projects with a high visual impact, signed by masters of design, emerging talents, street artists or committed brands.
And of course, even this year, has seen the birth of many installations which, precisely due to their popularization, have become viral on television, on websites, on social networks and also in dear and now ancient newspapers.
When Architecture Disappears
An architecture of mirrors that reflects the mountains or a macro object that does not want to appear? The border is as subtle as it is sharp. In Gstaad, in the Swiss canton of Bern, the Los Angeles artist Duog Aitken installed his work Mirage Gstaad (on site for two years).
The commission, arrived from the latest edition of Elevation 1049(project born in 2014 to involve international artists in the creation of site-specific works dedicated to this mountain place that became famous in the 1960s, when Time Magazine called it "The Place"), invites us to reflect on the theme of frequency intended both like the speed with which something occurs and repeats itself over a given period of time and like the frequency speed of light that reflects the sublime neighboring alpine landscape and makes architecture disappear.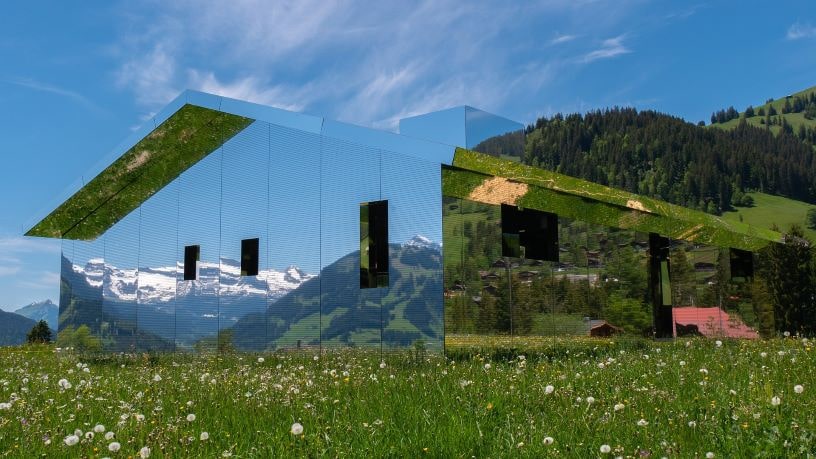 Looking From Another Point Of View
Art as a call to solidarity. Banksy's latest Christmas mural turns a homeless into Santa Claus. The anonymous artist has accustomed us to conceptual performances that, with a few simple measured gestures (in this case, a video showing a man with a white beard, apparently a homeless man, drinking from a bottle before lying down on the bench was enough, as if get ready for the night) are capable of making us reflect.
The drawing, two reindeer painted on a brick wall that seem to drag an "inhabited" bench in Vyse Street, takes advantage of the Christmas atmosphere to address the theme of homeless people all over the world, who have to face cold and lonely nights every winter, in a work that is an appeal to solidarity and an invitation not to look away.
Nature as a Memorial
For Forest – The Unending Attraction of Nature is a dystopian work that aims to challenge our current perception of nature by questioning its future. The green installation by artist Klaus Littmann (in collaboration with the Swiss landscape architect Enzo Enea), is made up of about 300 indigenous Central European trees planted inside a football field of an Austrian stadium.
The threat to our natural environment is conveyed through an experiment that imagines a time, in an abstract future, in which forests will exist only as objects on display.
Optical Illusion In The City
A British artist, famous for his surreal interventions on the urban landscape, has created an optical illusion on the facade of a building inside the Opificio 31 in Milan, during the last FuoriSalone 2019 (Iqos World Revealed project).
Alex Chinneck, this is the name of the famous creative, is capable of experimenting with new multidimensional spaces through unexpected perspectives and, through the appearance of an out-of-scale zip – his distinctive signature – literally opens the façade of the building, to hint at new worlds and new possibilities.